I've always wanted a flawless skin---even toned, smooth and blemish free face (who wasn't anyway?).
On my case, I have no problem with my skin on my body parts specially my arms and legs. It's just with my face that's always been my worry. I never get free of breakouts since I was a teen. My oily skin and fine lines on my early 20's is a real disappointment.
Why is it really a big deal?
Well, beauty creams, toners, moisturizers, facial scrubs, cleansers and many skin care products on different variants has been part of my daily regimen but I've never got the best one for every kind to suit my skin.
When I got married, I've been more aware of my skin yet being pregnant stops me from using those toners that I used to apply on my face and limit the use of creams and make-ups. Though I had less effort that time, I was really amazed to have the most glowing and blemish free skin after giving birth to my son. Only that it didn't last for good and the next months after my postpartum month showed another start of doom for my face. Oh my but pimples started to show up again!
Later on, my worries got back again now with annoying fine lines on my eye area plus a slight darkening. That's when I realize that stress do have a lot of contributing factors to aging. What makes it worst day by day is the thought that I'm running out of solutions to take and lesser time for myself.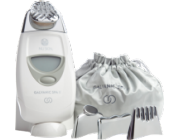 Watch out for my next post for the changes it brings out in me. How things got more spicy and turned everything on with my personal life.